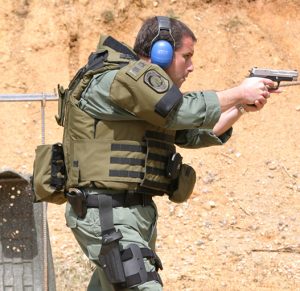 Mike Baker started his career in law enforcement in 1985 as a Police Cadet. He attended the SC Criminal Justice Academy, served as the Traffic Safety Officer, responsible for the cadet corps., midnight shift investigator, and served two tours of duty in the Organized Crime Narcotics unit, responsible for narcotics investigations, and served on the DEA task force as a task force agent. 
Mike served three tours in the Training Unit, the first responsible for re-tooling the then-inactive basic candidate school. It was at this time Mike began to see the need for new formats, graphics, and media for teaching, as he was basically starting from scratch. Like most training officers, Mike became really familiar with Powerpoint. Mike was also responsible for departmental training and for cross training with other agencies. He knew the presentation was not the star, but needed to be as sharp as possible to both grab the attention, and in the case of instructing departmental personnel, have them see that the time was taken FOR THEM, in the attempt to gain buy-in on the topic from the class.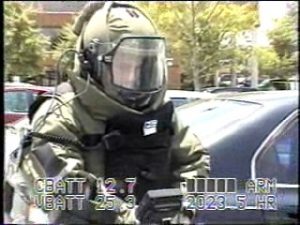 Mike served for over 15 years on the departmental SWAT team; starting out as a medic on the entry element, became a team leader and then the team's technical officer responsible for their training. Mike was also a member of the Chemical, Ordinance, Biological, and Radiological team (C.O.B.R.A.). He also served on the department's Bomb squad after completing the FBI /US Army hazardous device school.
During his time with the department, Mike was decorated twice; once for bravery in the line of duty, and once for meritorious conduct. Mike also received the 2010 departmental award for Community Policing.
Mike was responsible for teaching firearms; basic, in-service, and advanced. He taught driving, terrorism, basic patrol operations, patrol rifle, defensive tactics, ground defense, aerosol projector, and the usual in-service / block training topics for an over 300 man department.
In 2010, Mike retired from the police department and immediately began working as a state instructor; teaching basic firearms, driving, and served as the primary patrol rifle / precision rifle instructor. While with the State he received a Civilian Service medal, presented by the Commanding General of Ft. Jackson, SC, for Army / Civilian Joint Training in 2012.
Mike Baker also has a creative side and has illustrated three children's novels for a local author.
His time in the law enforcement training field had taught him several valuable lessons. "There's never enough time allowed. The departmental machine never has the software to do what thirteen year olds are doing; that is posting sharp video and graphics on media sites. There usually is no training budget, and a training unit is usually only one or two people," says Mike.
That is where Law Enforcement Training Media (LETM) fits.
As an instructor, he saw the need for new graphics. Not the same old cartoony cop-eating-a-doughnut clipart, but graphics that depict action, motion, and job-specific tasks. With the advances in video technology and strong editing software, a presentation is a strong solution to a changing law enforcement target audience.
The new generation of law enforcement has grown up with graphics, video, and social media. Mike saw that to reach this new audience, it would take not only a change in the thought process of instruction, but tailoring presentations that really reached this audience.
Having had to generate training manuals for a variety of disciplines, everything from Basic Patrol Operations, Mobile Field Force Operations, Patrol Rifle, and Patrol Rifle Instructor, he found that having a bank of graphics and digital media he could work from saved time and effort.
LETM is not re-inventing the wheel. It's just providing the wheel to everyone, or in some cases, just pumping up a flat. LETM's mission is to provide real-world, specifically-branded media to a department or unit.
The staff at LETM has worked in law enforcement training for a combined number of almost one hundred years of training experience, in every major training discipline in law enforcement. If direction is the problem, then LETM can guide a path. Working with the instructional staff, LETM staff can navigate a course; providing clear, defendable direction to start a program.
All media, whether it be stills, graphics, motion graphics, or video are all specific to the instructor's needs. Nothing is produced without or before consultation, to insure satisfaction with the end product.